Our curriculum: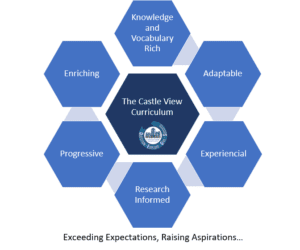 The Early Years is child led and based on pupil need.  It is focused on engaging and motivating learning through 'real play' and 'deep learning', ensuring pupils engagement levels are high and they develop the characteristics of effective learning to ensure active learners who are resilient and thrive.
In Key Stage 1 and 2 we build on this active learning to develop pupils who are focused on personal and academic development; with unlimited aspirations. Having fun in learning matters.  A happy child will learn.  Meeting every child's needs matters to us and our curriculum is tailored to the needs of our pupils.
Our curriculum is bespoke to the needs of our children and context. We are fortunate enough to be based in a location which has a wealth of resources; which we harness. We have used the national curriculum objectives and expectations as the main focus for learning and enhanced these further by developing our own curriculum, which develops the children's knowledge and understanding of their locality, country and the world. Developing Reading skills, vocabulary and mathematical understanding is a paramount so that we ensure all children can access all aspects of learning. Progression documents from a range of specialists have been used to ensure learning is built on 'year on year'. To 'exceed expectations and raise aspirations'. We use our curriculum to create curiosity, challenge views of beliefs over time, celebrate success and enrich children's life.
Our aims are to provide pupils with the skills and confidence to flourish in 'modern Britain', adapting to an ever changing world. Tolerance and respect are promoted in everything we do, ensuring differences are valued and celebrated and that all succeed irrespective of their starting points.
'Sometimes the smallest steps are the biggest'.
Our curriculum is contextual and supported by clear learning and progression from the early years through to year 6. The key learning in our curriculum is to ensure children's skills and knowledge are developed and makes every opportunity for pupils to apply their learning in a range of contexts.
The Department for Education summarise the national curriculum here. 
We believe education should be full of experiences that enhance our lives. Therefore enriching children's lives is important to us. In addition to our main curriculum we embed as many enrichment opportunities as possible through; weekly planned activities, visits, visitors to school and residential trips.
Just a few of the opportunities we offer our children weekly are outdoor learning, sports, cookery, forest schools, geocaching, DT specialist workshops- these are just a small sample!